Follow the steps below to apply a license to your instance of FluentBooks:
Please note: If the machine where you try to install FluentBooks has no Internet connectivity please follow the steps from the following article - How to license FluentBooks if the computer has no Internet connectivity.
1. Start FluentBooks –> Start Menu → All Programs → 'FluentPro FluentBooks 5.1' and select 'FluentPro FluentBooks 5.1'.
The application will start in a non-licensed mode.
2. Select the 'I have a license for FluentBooks' option.
License Window
1. Enter Email, Name, Company Name from the license file that you have and click Activate.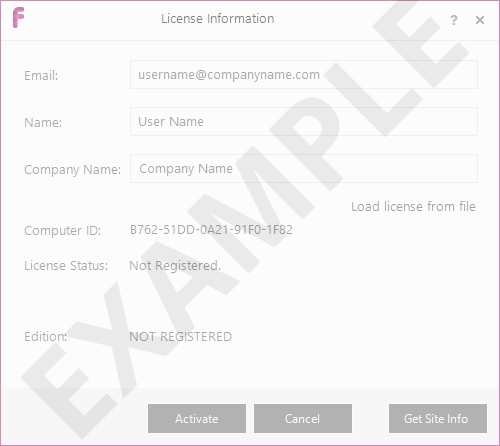 2. FluentBooks should start in Registered Mode.
Congratulations, FluentBooks is now ready for use! 
To add PWAs to your license from FluentBooks directly, please refer to 'How to add PWAs to your license' article.