9. Partial PWA Configuration re-migration
After all Project Online data was copied from source to target PWA, it would bee needed to re-migrate specific PWA Configuration entities:
Enterprise Project Types - to set Project Plan Templates, which were transferred along with Projects;
Portfolio Analyses & Dependencies  - to update them with Projects data, which were transferred after PWA Configuration migration;
Security Categories - to fix Projects & Resources set in Security Categories.
1. On the G.A. Suite Home Page click on the environment which you would like to use as a source of PWA Configuration copy. Click Change Management and select the Copy option. 
2. The Copy page will be opened. This page includes the list of all copying operations launched for the selected environment if any. You can use views and filters to sort the copying operation on the page and find the required operation if needed. 
To launch the copying process, click on the Copy now option. 
Copy Now window will be opened. Review and edit the required information here by clicking on the pencil-like button next to each section.
Source location - check that the source PWA URL is correct. 
Notification Email - specify the email, where the notification will be sent on completion.
Source credentials - Provide specific credentials, if needed, and validate them. Multi-factor Authentication for Office 365 users is also available. For more details refer to this article. Please note: By default G.A. Suite uses the credentials which were provided when adding PWA to G.A. Suite. These credentials are stored and may be found on the Credentials page. If for some reason you would like G.A. Suite to use a different set of credentials, use this option.
Target location - the PWA configuration will be copied to the selected PWA. Please note: The required PWA should be added to your G.A. Suite tenant and licensed. 
Target credentials - provide target specific credentials if you need to use different credentials from the ones provided on the Credentials page. 
PWA Configuration - click on the pencil-like button to select the configuration you need to upload to the target PWA now. 
Click the Selected option and click on the number link below. 
3. In the opened Selected Entities window check the checkboxes of the following entities: Enterprise Project Types, Portfolio Analyses & Dependencies, Security Categories.
Click OK once you are done: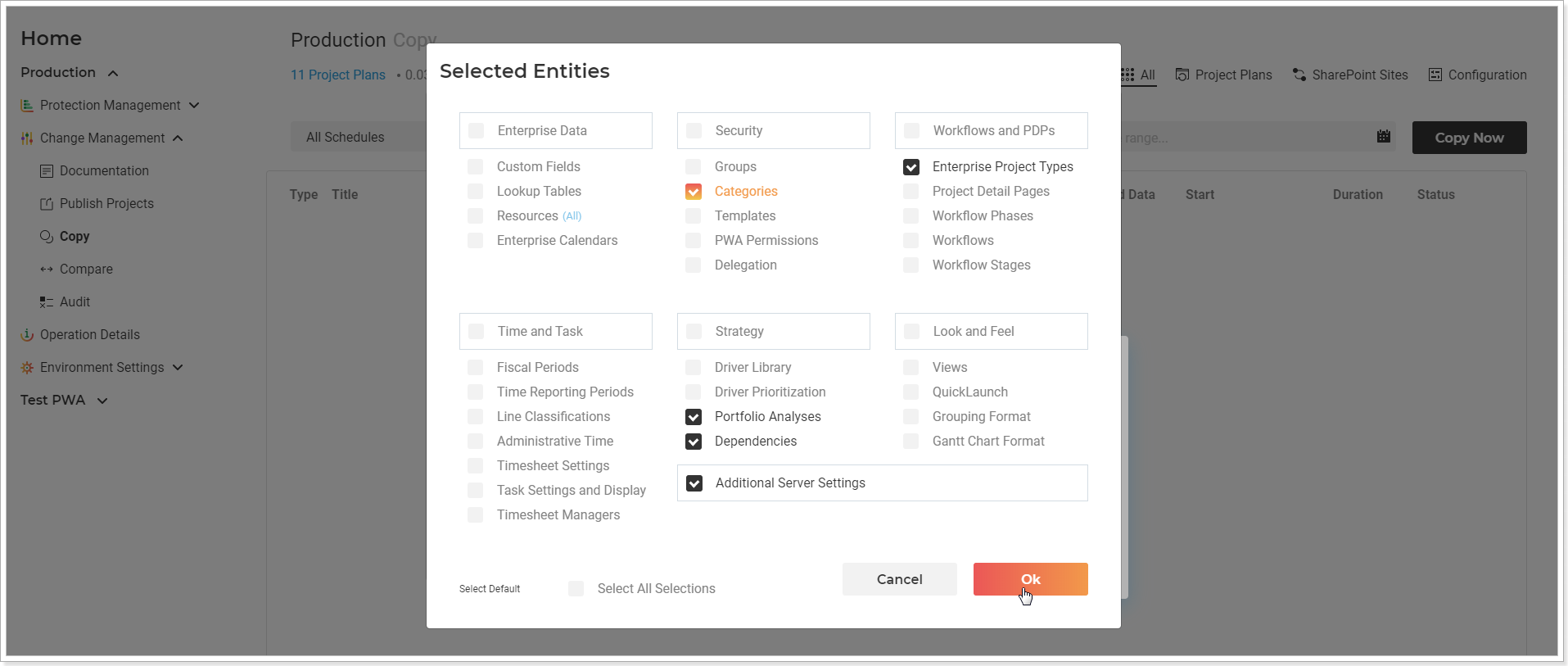 4. Click Save to save the selection and proceed. 
Project Plans and SharePoint sites - Skip these options. 
Click the Copy now button to launch the copying process. 
Copy Summary window will be opened where you can review the information for the launched operation. You can Cancel and Pause the operation if required. 
5. Click Close to return to the Copy page. 
The operation will appear on the Copy page at once and you can track progress here. 
Await until the copy process is finished.