In this article we will review the following user scenario: Accounts Mapping while migrating resources from Project Server 2013 to Project Online. Active Directory Resource Pool Synchronization will be enabled in the Project Online PWA.
1. Before uploading resources, synchronize the Enterprise Resource Pool with the necessary Active Directory group. The synchronization should be performed before uploading Resources using FluentBooks to avoid duplicates. 
2. When you upload Resources as a part of the PWA Configuration upload, Step 4 of the Upload Configuration to PWA wizard will take you to the Account Mapping screen.
3. In the Account Mapping screen specify target accounts for resources. When Active Directory Resource Pool Synchronization is enabled in the target PWA it is recommended to use the option Load target accounts since the accounts are already added to the target PWA.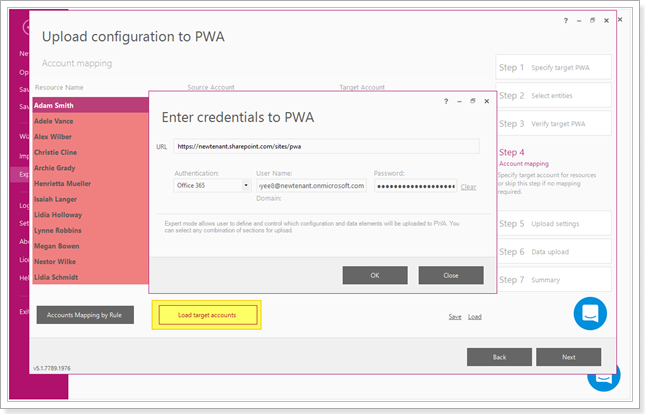 4. Click the Load target accounts button to load accounts from the target PWA. FluentBooks will request the credentials to PWA, provide the credentials and click OK.
5. After accounts are loaded, FluentBooks will ask if you want to do accounts mapping automatically. Click Yes to map the source and target accounts. 
If the account is identical in the source and target PWA, the line will be marked white. (When the source and target PWA are in the same tenant/farm).
If there is no match in the target PWA the line will be highlighted in red.
If it is not a complete match the line will be highlighted in yellow. 
6. Verify the created accounts mapping.
Save it to an Excel file using the Save option.
Open this Excel file and verify the mapping.
For example, the resource Archie Grady with the source account CONTOSO\archieg was not mapped automatically, but it has an account in Target PWA.
Add the mapping for this resource manually.
The resources Adam Smith (CONTOSO\adams) and Lidia Schmidt (CONTOSO\lidias) were also not mapped. Since they do not have user accounts in target PWA, leave the Target Name and Target Account cells blank.
In case there is no user account for a resource in the target PWA, the resource will be migrated as an Enterprise resource without an account. Yet, all resource data (Resource Level Custom Field values, rates, availability, etc.) will be migrated.
7. Use the Load option to use the edited mapping file.
8. Click Next to continue uploading PWA configuration.